RF & MICROWAVE ENGINEERING
Your connectivity solutions: From the design, manufacturing and delivery stages, we manage every step of your project.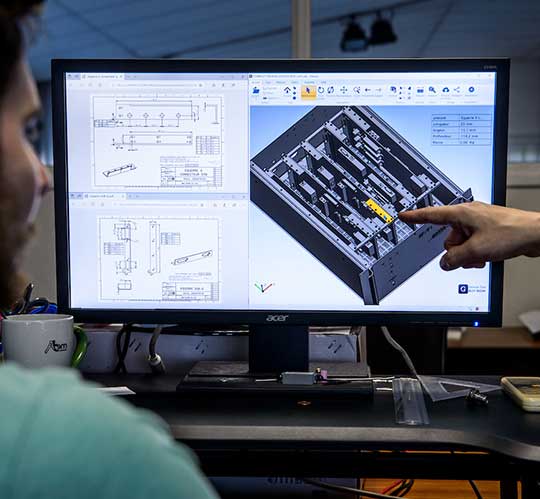 RF & MICROWAVE SUBSYSTEMS TO MEET YOUR SPECIFICATIONS
Since 2010, our design office, dedicated to the microwave interconnexions and the integration of microwave subsystems, accompanies our customers from the initiation phase of their project to protect their equipment from any unpleasant surprises during the initial operating stage.
In engineering, we offer a complete drawing package, from modeling, through to prototyping and production. We provide professional cabling solutions in consolidated cabling infrastructures.

We manufacture microwave subsystems regardless of their operating environment. For embedded systems, we provide components that take into consideration potential obstacles in regard to volume size, temperatures, vibrations and EMC ...
We define acceptance tests to be able to provide our customers with the RF & microwave subsystems according to their expectations.
We do integration, functional and industrial testing.

Even if we have not been associated with the initial design of your project, we can accomplish whatever is necessary to guarantee the top-quality standards that you have been waiting for.
Our team members will be happy to propose a coax cable assembly that fulfil your requirement